We are currently accepting online applications for the position of full-time Vermont State Trooper. You must read through the Basic Requirements and FAQs to ensure eligibility.  Then go to the "Submit Application" page to apply.  See below for test dates and application deadlines.
Please Note - The written, physical fitness, and MMPI-2 Psychological exam are all given on the same day. Applicants must pass each individual test to proceed to the next test.
On your initial testing day, plan to be here from 08:30 until at least 16:30 (4:30pm) if you pass each section of the test.  Please plan accordingly by bringing appropriate snacks and drinks.  Professional/ business attire is expected while at the Vermont Police Academy for testing.  Please dress in a manner that shows respect to the agency.  You will have an opportunity to change into running/PT gear for the physical test. 
You must bring $30 cash or check, as well as your photo ID.  Be at the Vermont Police Academy no later than 0830 on test day.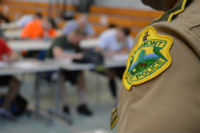 Written Test - conducted by the Vermont Criminal Justice Training Council. The test is a general knowledge, multiple choice test in which a passing grade of 70% is required to continue in the process with the PT test. If you fail the written test, you must wait one month before attempting again. After your second failure, you must wait four months before testing again. After a third failure of the written test, you will not be allowed to test again for the Vermont State Police.
Physical Fitness Test - Fitness standards were derived from research conducted by the Cooper Institute for Aerobic Research in Dallas, Texas. These are age and gender based standards and represent the 50% level of the population tested. You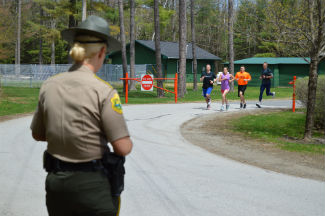 can review the fitness standards here. You must score a minimum of an AVERAGE in each category to proceed to the next exercise. If you fail any portion of the physical fitness test, you may take the next scheduled physical fitness test. You will not have to retake the written test.  The 1.5 mile run will occur outside so please dress appropriately for the weather. 
MMPI-2 Psychological Personality Inventory. This test takes approximately 60-90 minutes and consists of all True/False questions. Your answers will be reviewed by a psychologist to determine suitability to become a Trooper.
These test dates are available for your planning purposes. You will not be able to sign up for a test, until you have succcesfully submitted an application along with all supporting documents and have received confirmation from the Office of Professional Developement.
IF YOU HAVE BEEN SCHEDULED FOR A TEST DATE AND NEED TO CHANGE IT OR CANCEL IT, PLEASE EMAIL Theresa.Murdock@vermont.gov.
Upcoming Test Dates & Application Deadlines