The Vermont State Police is a major source of news in Vermont. We operate 24/7, 52 weeks a year, just like the news media. We share the common goal of serving Vermonters, in part, through collecting and sharing important information. As such, the Vermont State Police responds to media inquiries and public requests as quickly, completely and accurately as possible.
The Vermont State Police Public Information Officer is Scott Waterman.  Contact him for major crimes, trooper involved critical incidents, breaking incidents of significant public interest, policy decisions, high profile topics or to coordinate speaking to a subject matter expert.  Contact him at 802-241-5277 in his Waterbury office, or email the PIO.
Press Releases
The Vermont State Police disseminate press releases for significant criminal or public safety incidents and arrests, but it not intended to document every public contact or response to a call-for-service. For media questions, please contact the investigating trooper directly or, after hours and on weekends, contact the Watch Commander through your local dispatch center.
Send an email to the Public Information Officer to request to be added to the Vermont State Police press release distribtution list. Please keep in mind that the Vermont State Police issue upwards of 100 press releases a week. As an alternative, you may follow us on Twitter or view our press releases online.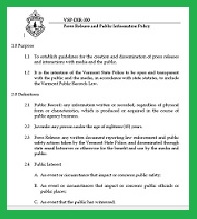 Press Release & Public Information Policy
The VSP Press Release and Public Information Policy is a set of instructions directed toward VSP department members as guidance for writing press releases and releasing public information.  Press releases include information about arrests and citations, reports about homicides and other major criminal investigations, traffic incidents such as crashes and enforcement, and any incident that could have public impact or be of public interest.  The policy instructs troopers when to issue press releases and sets the standards for the release of information.  Information for release includes the name, hometown and age of the person or persons arrested/cited, the type of charge, details that support the charge, the booking photo (mugshot) of the individual arrested and details of the incident.  Weather related emergencies and road closures are also communicated to the public through a press release.    
At the same time, the revised policy reasonably balances, on the one hand, the public's right to know and, on the other hand, the privacy of crime victims, the integrity of criminal investigations and the protection of an offender's Constitutional right to a fair trial.   The VSP work diligently each day to balance these competing interests.  Excluded from VSP press releases are names of victims of domestic or sexual abuse, names of witnesses, the identity of juveniles (until such time they are charged in adult criminal court), and any information that may compromise a criminal investigation.  Vermont law (see below) requires the protection of personal information that may harm an individual not accused of a crime and the protection of an accused's right to a fair trial.  During ongoing criminal investigations Vermont law allows for investigators to delay release of information to protect the integrity of an investigation in the hope of a complete resolution for the families of victims and their communities.  If there has been a fatality, whether in the context of a crime, an officer involved shooting, or a traffic incident, the name(s) of the decedent is withheld until family is properly notified.  Street addresses, dates-of-birth, social security numbers, and medical information are also protected by VSP policy, and by Vermont law.  
Records requests can be made online or by mail directly to the Vermont State Police. The Vermont Access to Public Records Act, Title 1, Chapter 5, Subchapter 3 of the Vermont Statues Annotated, provides for access to public records. The Act also includes specific exemptions from public inspection. Those exemptions are set forth in 1 V.S.A. § 317.
Arrest Processing Photos
Request a mug shot taken by the Vermont State Police for a VSP arrest. When making a mug shot request, it is imperative that you include the name, age, date of arrest, and the barracks from which the suspect was arrested. Please keep in mind an arrest processing photo may not exist if the suspect was cited and released or if extenuating circumstances prevented a photo from being taken.
The Vermont State Police cannot release arrest processing photos taken by another agency. 

The Vermont State Police, in ts efforts to provide citizens with a better picture of the community we serve, has partnered with CrimeReports.com to offer crime mapping and statistics. While we make every effort to provide timely, accurate information, the data provided to CrimeReports.com is based upon the original incident reported to the Vermont State Police.