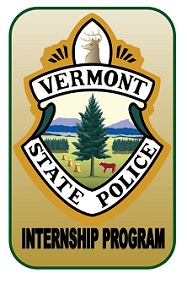 Vermont State Police began implementing an internship program in 2017, designed to provide a learning experience for college students interested in the police profession.   This program allows the Vermont State Police and the student to benefit from the shared experience.  The internship is a selective educational opportunity that will provide a positive learning environment for interested college students who are enrolled in an accredited college or university, and to experience the various aspects and responsibilities of law enforcement while completing their studies.  Students will learn about the Vermont State Police, our mission, special assignments, and various job functions.
THE DEADLINE FOR SUBMITTING APPLICATIONS FOR FALL INTERNSHIPS IS APRIL 12th.
THE DEADLINE FOR SUBMITTING APPLICATIONS FOR SPRING INTERNSHIPS IS NOVEMBER 15th.
APPLICATIONS RECEIVED AFTER THIS DATE MAY NOT BE CONSIDERED FOR AN INTERNSHIP.
Inquiries about the program or requests for applications are accepted year round.
Applicant Requirements
A. Must be at least 18 years of age;
B. Enrolled as a junior or senior at an accredited college or university;
C. If enrolled in a two year program, must be in their final year of study;
D. Have a minimum of a 2.5 GPA;
E. Recommendation by a faculty advisor;
F. Interested in a career in law enforcement;
G. Able to work a minimum of 10 hours per week;
H. Clear a criminal history check and background investigation;
I. Have a valid driver's license;
J. Complete the application process.
Application Process
The applicant must complete and provide the following forms to the Intern Program Coordinator:
1. Application packet
     - download the Personal Integrity Questionnaire here:  MS Word   PDF 
2. Letter of referral from a school official
3. Resume
4. Cover letter
5. Official school transcript
Internship Program Completion
Upon completing the internship program requirements, the Vermont State Police will provide a narrative report outlining what the intern has accomplished during the program and summarize the overall experience. The activities the intern took part in will be detailed in the report, and an overall assessment of the intern's time with the program will be provided. The site supervisor will coordinate with the college or university to ensure this narrative meets their requirements.
To Apply
If you would like to apply or have more questions about the Vermont State Police Internship Program, please email the program coordinator, the Office of Professional Development can provide more information about the program.