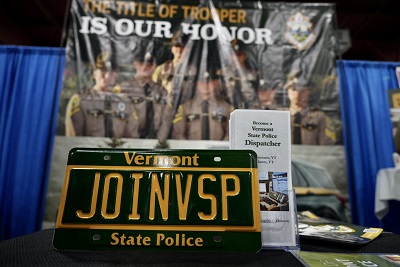 We are accepting online applications for the position of full-time Vermont State Trooper.
You must have submitted an application online and sent in your supporting documents before you can test.  If you have not received a confirmation email, that means you are not on our roster. This could be an indicator that something is incorrect or missing from your submitted packet.
Please allow 15 - 20 days from the time of submittal before inquiring if we have received your documents, to allow time for us to accept the applications from Human Resources and validate your supporting documentation.
PHASE 1 - Written, PT, MMPI tests
Please note - The written, physical fitness, and MMPI-2 Psychological Inventory are all given on the same day. Applicants must successfully complete each individual task to proceed to the next step.
On day one, if you complete each section, you may be here from 0830-1630 or later.  Please plan accordingly by bringing appropriate snacks and drinks.  Professional business attire is expected while at the Vermont Police Academy for testing.  Please dress in a manner that shows respect to the agency. You will have an opportunity to change into fitness attire for the physical test.  You must bring $30 cash or check, as well as your photo ID.  Be at the Vermont Police Academy no later than 0830 on test day.
Written Test (temporarily suspended as of July 2021)
The written test is conducted by the Vermont Criminal Justice Training Council. The test is a general knowledge, multiple choice test in which a passing grade of 70% is required to continue in the process with the PT test. If you fail the written test, you must wait one month before attempting again. After your second failure, you must wait four months before testing again. After a third failure of the written test, you will not be allowed to test again for the Vermont State Police.
For individuals who have a learning disability, accommodations can be arranged, if needed, by contacting Lindsay Thivierge. The Academy may provide accommodations for someone who submits adequate documentation of a disability that impacts test taking. This request must be made no less than two (2) weeks in advance of the test. Written requests are required.  Documentation (from a doctor, psychologist, psychiatrist, learning disabilities professional, or other person qualified to diagnose and/or treat such disabilities) of the need for such accommodation must be provided.  Contact information, including an address and telephone number, of the person who conducted the assessment must be included.  Academy staff will review the material submitted.  Further information may be requested.  It is the responsibility of the applicant to check with the Academy BEFORE the test date to make sure the accommodation will be granted.
Physical Fitness Test
A mandatory physical assessment program is in place that encompasses a 1.5-mile run, a 500-Meter Row on a Concept 2 Rower (with a damper setting of 5), as well as a bench press, sit-up, and push-up assessment. The standards for these assessments are based on the 50th percentile for a candidate based on age and gender. View the requirements.
MMPI-2 Psychological Personality Inventory
This evaluation takes about 60-90 minutes and consists of all true/false questions. Your answers will be reviewed by a psychologist to determine how well you would fit with the requirements and demands of being a Trooper.
PHASE 2 - Hiring Panel Interview
Phase 2 testing is typically scheduled one to four weeks after the successful completion of Phase 1 testing.
A hiring panel interview is held before three commanders of the Vermont State Police. The panel will score a candidate based on a candidate's reasoning and problem solving, leadership, interpersonal skills, communication skills, presentation and achievements, and decisionmaking ability. Knowledge of the department and the job is important.
This is a job interview.  Dress in business attire and know about the position for which you are applying.
PHASE 3 - Polygraph
Phase 3 testing is typically scheduled one to four weeks after the successful completion of Phase 2 testing.
Polygraph Test - Used to determine a candidate's honesty and suitability to become a Trooper.
PHASE 4 - Background Investigation and Medical Exam
A candidate who successfully completes the above testing will have a background investigation completed by a member of the Vermont State Police. Background investigations include examination of motor vehicle and criminal records, financial records, school records, and past and present work history. Also interviewed are friends, family, spouses/significant others, and co-workers.
Upon successful completion of the background phase, candidates will be scheduled for a medical examination. The medical examination will be conducted at one of two locations in the state of Vermont at the department's medical provider.  The expense will be covered by the department.
PHASE 5 - Meeting with the director, Colonel Birmingham
The director will meet with each prospective applicant and decide if the candidate is suitable for the position of Vermont State Trooper.
Upcoming Test Dates & Application Deadlines