The Vermont State Police is committed to transparency and to keeping the public informed of law enforcement activities by VSP while also protecting individual privacy, ongoing criminal investigations, and the rights of the accused. To fulfill this important function, VSP utilizes a variety of methods to share information with the public, including news releases, social media, responses to public information requests, incident reporting, and web-based content. This outreach and distribution of information is an important component of the VSP mission and our service to the people of Vermont.
The Vermont State Police is a major source of news in Vermont. We operate 24/7, 52 weeks a year, just like the news media. We share the common goal of serving Vermonters, in part, through collecting and sharing important information. As such, the Vermont State Police responds to media inquiries and public requests as quickly, completely and accurately as possible.
Media inquiries about most incidents, especially major cases such as homicides, should be directed by email to the state police public information officer, Adam Silverman: adam.silverman@vermont.gov. Inquiries about incidents contained in news releases from troopers should be directed to the trooper and/or the commander of the barracks responsible for the incident. You can find barracks information here, including the names and email addresses of each barracks commander. Please refer to the incident/case number contained in the news release when contacting the barracks.
For inquiries during night-time hours and on weekends and holidays, please contact the on-duty watch commander. A watch commander list is distributed each Monday and can be found on the VSP News Release Blog. Inquiries about interviews and other topics should be directed to our Public Information Officer by email. 
VSP News Release and Public Information Policy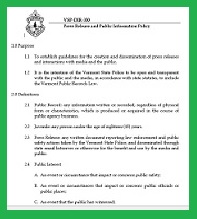 To review the VSP News Release and Public Information Policy, click below:
News Release and Public Information Policy
The VSP News Release and Public Information Policy is a set of instructions for VSP department members as guidance for writing news releases and sharing public information. News releases include information about arrests and citations, reports about homicides and other major criminal investigations, traffic incidents such as crashes and enforcement, and any incident that could have public impact or be of public interest. The policy instructs troopers when to issue news releases and sets the standards for the release of information. Information for release includes the name, hometown and age of the person or persons arrested/cited, the type of charge, details that support the charge, the booking photo (mugshot) of the individual arrested when available, and details of the incident. Weather-related emergencies and road closures also are communicated to the public through a news release.
At the same time, the policy reasonably balances, on the one hand, the public's right to know and, on the other hand, the privacy of crime victims, the integrity of criminal investigations and the protection of an offender's constitutional right to a fair trial. VSP works diligently each day to balance these competing interests. Excluded from VSP news releases are names of victims of domestic or sexual violence, names of witnesses, the identity of juveniles (until such time they are charged in adult criminal court), and any information that may compromise a criminal investigation. Vermont law (see below) requires the protection of personal information that may harm an individual not accused of a crime and the protection of an accused's right to a fair trial. During ongoing criminal investigations Vermont law allows for investigators to delay release of information to protect the integrity of an investigation in the hope of a complete resolution for the families of victims and their communities. If there has been a fatality, whether in the context of a crime, an officer-involved shooting or a traffic incident, the name(s) of the decedent would be withheld until family is properly notified. Street addresses, dates of birth, Social Security numbers, and medical information also are protected by VSP policy, and by Vermont law.
News Releases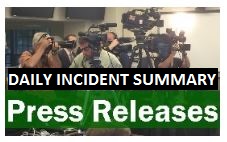 The Vermont State Police disseminates news releases for significant criminal or public safety incidents and arrests, but releases are not intended to document every public contact or response to a call for service. For media questions, please contact the investigating trooper directly, the public information officer, or, after hours and on weekends, the Watch Commander through your local dispatch center.
Please contact us to request to be added to the Vermont State Police news release distribution list. Please keep in mind that the Vermont State Police issue upward of 100 news releases a week. As an alternative, you may follow us on Twitter or view our news releases online.
A daily incident summary log can be found on the VSP News Release blog. This log is automatically generated, posted daily, and includes VSP incidents from the previous 24-hour period. The incidents include date, time, nature, officer, street, and town. They are sorted by VSP barracks.
VSP Policies & Code of Conduct
The actions of members of the Vermont State Police are directed and governed by a Code of Conduct and numerous policies, covering topics such as use of force, fair and impartial policing, victim assistance, motor vehicle pursuits, types of leave, personal appearance, tattoos and body piercings, and many more. The state police makes many of these policies available online for members of the public to review. You can access a database of policies at this link.
Arrest Processing Photos
Request a mug shot taken by the Vermont State Police for a VSP arrest. When making a mug shot request, it is imperative that you include the name, age, date of arrest, and the barracks from which the suspect was arrested. Please keep in mind an arrest processing photo may not exist if the suspect was cited and released or if extenuating circumstances prevented a photo from being taken.
The Vermont State Police cannot release arrest processing photos taken by another agency.
Social Media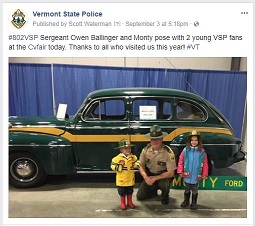 The Vermont State Police employs social media to further engage the public in VSP messaging and activities.
The VSP Facebook page focuses on community policing and community relationships to reinforce our commitment to those we serve. When needed, Facebook is also used to relate important public safety and traffic safety messaging, as well as requests for information that could aid in the investigation of a crime.
The VSP Twitter page shares our news releases, recruiting messages, traffic safety alerts, and other items. The state police also is active on Instagram and Threads.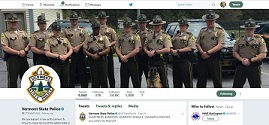 There is also a VSP Recruiting Twitter page, focused on connecting those interested in a career with VSP to important information that could assist them, and provides imagery from recruiting events.

The VSP You Tube Channel focuses on videos promoting the image of VSP, recruiting, and important public safety messages like seatbelt use, cyber-crime, and bike safety. Many of the videos are produced in-house by VSP. This is a growing platform, as we hope to share more stories about VSP with the public.
Vermont State Police Website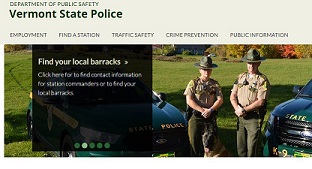 Many questions about the VSP can be answered through the VSP webpage. Agency structure, employment, traffic stop data, fair and impartial policing, unsolved cases, and much more, may be explored on our webpage.
State of Vermont Public Records Statute
The Public Records Act was passed into law by the Vermont Legislature to address the need for public access to government information.  The statute requires government agencies such as the VSP, upon request, to deliver records to those seeking information.
The statute also establishes exemptions that protect certain information from release. The many reasons for those exemptions include, but are not limited to, protecting victims from unnecessary public exposure and privacy intrusions, protecting the integrity of criminal investigations, protecting personal information of citizens not charged with crimes, protecting a defendant's right to a fair trial, and protecting various other types of private information from being released.  The Vermont public records statute can be found online at: http://legislature.vermont.gov/statutes/section/01/005/00317
Public Record Requests
The Public Records Act includes a requirement for a government agency to produce a requested record within a specific period of time. Once a public record request is received by a government agency, the statute requires the agency to either, provide the document within three business days in its entirety, redact the record with a statutory explanation for the redaction, or provide notice of the need for a ten-day extension before providing a response to the request for information. If deemed appropriate, an agency may also deny the records request by citing an applicable statutory exemption. Per statute, the requestor can appeal this decision. For the VSP, an appeal is made directly to the Commissioner of the Department of Public Safety. The Public Records Act places the onus on the government agency to comply with the request in a practical and responsive manner, always with the public interest and transparency in mind.
Records requests can be made online or by mail directly to the Vermont State Police. The Vermont Access to Public Records Act, Title 1, Chapter 5, Subchapter 3 of the Vermont Statues Annotated, provides for access to public records. The Act also includes specific exemptions from public inspection. Those exemptions are set forth in 1 V.S.A. § 317.
For more on Public Records Requests please visit: https://vsp.vermont.gov/public/recordrequests
Executive Branch agencies are required by law to log all Public Records Act Requests and related information in the Public Records Request System database. The database is posted on the Agency of Administration (AOA)'s website and is available to the public at: aoa.vermont.gov/stay-informed.
CrimeReports.com
Another site to review VSP incident data is CrimeReports.com This site collects incident information automatically from the VSP and displays it on a map of Vermont. The data can be filtered by date, incident type, geographic location, and various other options. It also allows for data analytics and downloadable files. Crime Reports can gather broad VSP incident statistics and compile them in a downloadable file through Socrata, and can also create a printable document of your search results for review. Using time filters, VSP data on Crime Reports can be explored through many years. For more information about Crime Reports and its potential uses please visit https://www.crimereports.com/. For frequently asked questions about Crime Reports data, please visit https://www.crimereports.com/agency/vermontstatepolice#!/faq For a tutorial on the use of CrimeReports.com, visit https://www.youtube.com/watch?v=Igvp043d7Fs
Public Information Goal
VSP is accountable to the citizens of Vermont. This public information process is therefore constructed to broadly inform the public of the activities of the VSP. VSP is committed to public service and engaging citizens in this process. VSP will continually improve this effort and welcomes any feedback.You can reach the VSP Public Information Officer at 802-241-5277.