June 14th, 1987

Sgt. Bill Chenard joined the Vermont State Police in 1969 and for 18 years he was a Trooper's trooper.  He did his job; the job he loved.  There were days he missed out on some family event, but this was the job he signed up for. When you become a recruit and "new boot", you expect to be stopping cars, checking licenses, writing tickets and maybe even solving a crime or two.  You hope to maybe become a detective like Sgt. Chenard.  In your first days as a trooper you may not be aware that part of your job would be to hike 7 miles up a mountain into the National Forest.
On June 14, 1987 that was Bill's job.  Recover the body of a Connecticut man who died of an apparent heart attack while hiking the Long Trail.  We know how this mission ended for Sgt. Chenard.  He and his colleagues started the hike up the mountain and, shortly thereafter, Sgt. Chenard collapsed.
It is important for the Vermont State Police, a family itself, to do our job.  Be vigilant in honoring the memories and sacrifices of Sgt Chenard and be vigilant in our support of their families and friends.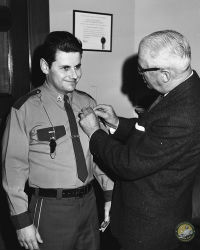 It takes a special person to become a Trooper.  The Shaftsbury Barracks honors our fallen brother every year to live up to the commitment that we won't forget Sgt. Chenard who made the ultimate sacrifice.
The Shaftsbury Barracks has two pictures of Sgt. Chenard and Sgt. Gaboury hanging on the walls for all to see.  They are placed in a specific spot so it's the first thing every Trooper sees at the beginning and end of their day.  "It's a constant reminder of one of the foremost professions in world that requires us to put someone else's welfare above our own personal safety."