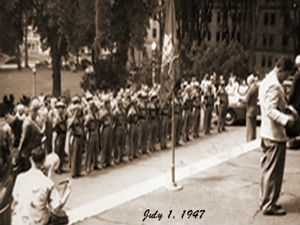 The Vermont State Police was formed on July 1st, 1947.  US Marine Corps Major General Merritt Edson was named as the first commissioner of the Department of Public Safety and his influence is still seen today.
The Vermont State Police Archive Center & Museum, Inc , a non-profit organization, was formed in 2007, with the support of the VSP Command Staff.  Their mission is to preserve and share the history of the Vermont State Police.  
A comprehensive history of the State Police is available on their website.