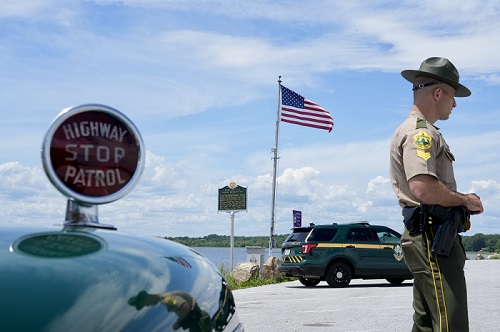 Effective January 2022, the salary for a newly hired trooper is $54,741.  After six months, the salary increases to $57,333 and with the completion of probation at the end of the first year, the salary will be $61,893. The trooper class progresses through seniority steps to a top salary of $95,903 for a trooper position with no rank. 
Newly hired troopers who have been to a full-time academy and have served as full-time law-enforcement officers for three years uninterrupted may qualify for a starting pay of $61,893 which then increases to $64,955 after 6 months.
A trooper normally receives a yearly cost of living increase in addition to the above.
Troopers also receive compensation for shift work, overtime work, on-call pay, call-ins for court, call-outs after hours and holidays worked. The overtime rate is 1.5 times the trooper's hourly rate.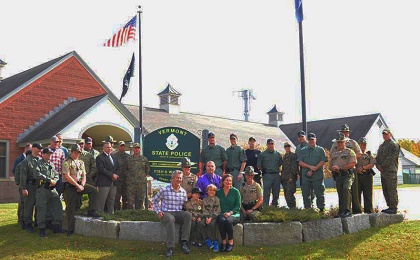 Additional Benefits
Paid holidays, sick leave, vacation time and personal leave.
Newly hired troopers who have served in the armed forces and received a full honorable discharge may be entitled to additional monetary benefits for training under the VA Benefits Program.
Excellent retirement plan based on 50% of the trooper's averaged top two years gross salary. Cost of living increase included yearly. Medical plan optional. Must be age 50 and have contributed 20 years into the system to collect full retirement benefits. Retirement for all members is mandatory at age 55.
Troopers earn vested pension benefits after 5 years of completed service.
Paid medical and dental plans. The trooper contributes 20%, and the state covers the remaining 80% of the cost of the medical plan. The state covers the cost of the dental plan.
Beneficiary benefits with optional group life insurance policy.
Optional deferred compensation plan.
Take home car equipped with state-of-the-art technology. Gas and maintenance are paid for by the state.
All uniforms and equipment are provided by the state, to include cleaning and replacement.
Tuition reimbursement plan.
Career advancement and specialization through promotion, special teams and various other assignments.
Shift differential for working nights and weekends.
Troopers moving to Vermont from out of state MAY qualify for the New Worker Relocation Grant Program
Troopers MAY be eligible for the Public Student Loan Forgiveness Program