May 12th, 1992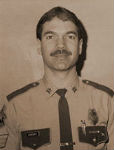 Sergeant Gary A. Gaboury, a Patrol Commander at the Shaftsbury barracks, and a member of the State Police Dive Team, was killed on May 12th, 1992.
Sergeant Gaboury was killed while attempting to recover the body of a swimmer that had drowned in the notorious Huntington Gorge in Richmond.
"I don't know if you know it or not, but you have one damn fine police officer."
- from a Letter of Commendation about Sgt Gaboury from Mrs. P. McCrae
 
Eulogy Delivered by Sergeant Paul Barci
Thank you Father DeMasi for presiding over this Mass and helping us deal with this tragedy.  This ceremony has been a celebration of Gary's life, not a mourning of his death.  I am honored to have been asked to speak about Gary and how we all feel about him.  I want to extend the condolences of hundreds of people to Gary's Gramma Beaulieu, his mother Solange, his aunts Anita and Rene, his uncle Ollie, his sister Roxanne, his brother Keith, his wife Karen, his former wife Peg,  his children; Gary, Scott and Stephanie, and all other family members.
There are 3 rules to public speaking, they are:
Rule #1, tell them what you're going to tell them.  I'm going to tell you that Gary Gaboury was a damn fine son, brother, husband, father, police officer, and friend.
Rule # 2, tell them.  And Rule # 3, Tell them what you told them.
There are some common clichés often espoused at young men's funerals, especially for police officers, and they are: #1 Someone's got to take the point, and #2: The good die young.
We have become a society of superlatives.  Descriptions given of people and their actions are commonly elevated beyond their true significance.  Athletes are "superstars", performers are  "megastars".  We as a society have taken to expound on one aspect of a person's life.  We elevate average and common actions to a higher plane of "superness".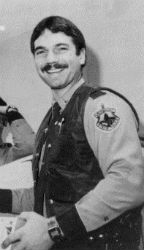 All who knew Gary knew that he lived his life in a truly superlative manner.  To call him an exemplary police officer would be accepted by all who knew him in that role in his life.  This, however, was but a part of his life-being.  However significant his police career was, it was only a part of the definition of Gary's existence.
To describe Gary and the impact he had on people he touched, I have chosen a small portion of a letter of commendation received by Trooper Gary Gaboury.  This statement was extracted from a letter from a Mrs. P. McCrae.  I do not know Mrs. McCrae or what service Gary provided her.
Knowing Gary, it could have as equally been giving her directions to Kmart as pulling her from a burning car after a crash.  The impact of Gary's contact with her caused her to write, "I don't know if you know it or not, but you have one damn fine police officer."  Yes, Mrs. McCrae, we know.
When Gary's father was ill we talked about his immediate family and how the illness factored into that portion of his life.  He told me about his concern for his mother and how she had to deal with the situation daily and difficulties she was now bearing.  He traveled to New Jersey as often as he could, taking his children with him whenever possible so they could maintain a relationship with Grandpa Ray.  He told me about the pain he felt, and when his dad did pass away how he wanted his mother to continue living her life to the fullest and have her be involved with his family and his life in Vermont.  The day he heard of his father's passing, he himself was living life to the fullest.  I know this because we were playing volleyball together in a tournament.
I have had conversations in the last two days with Solange in which she confessed to me that she has not heeded the advice given to her by Gary.  Solange, I implore you to follow in the sound advice Gary gave you.  Also, let these words guide you in the days to come Karen.
In fact, when I lost my mom recently, Gary and I had a conversation about how our generation had come of its own.  Like most of our day-to-day talks it was a combination of police story, thirty-something, and the Three Stooges, with a little mid-life crisis thrown in.  They usually ended with us laughing about the impossibility of it all.
His immediate family was of great importance to him.  Solange has told me of the love and respect he had for his Gramma Beaulieu and his aunts and uncles.  I have met his sister and brother in person only briefly, but having heard Gary talk about them I know of his concern and love for both Roxanne and Keith.
Gary loved spending time with his wife and children.  His first marriage was blessed with two fine young sons, Gary and Scott.  His later marriage to Karen was similarly blessed with the birth of their daughter, Stephanie.  The first time I saw Stephanie was with Karen and Gary at a volleyball game.  She was about the size of a keeper largemouth bass and Gary was the "proud papa".
I had the pleasure of being with Gary and the boys on several occasions, usually on fishing expeditions.  He always interacted with his sons in such a way as to mold them into respectable, responsible, honest, decent people, a mold in which his own life was cast and from which he never wavered.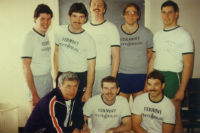 Perhaps the most fitting example of Gary's love for Karen and the children is an example he provided himself.  In April of this year, he and his family went on a vacation to California.  He sent a postcard to the barracks; most Troopers do when they're far away from work.   The written note on the back of the card spoke only of the fun and pleasure he was having with his family.  He wrote, "Having a great time at San Diego Zoo, Sea World, Tijuana, Mexico, etc.  Today is Stephanie's birthday, so we are going to Disneyland."  He wrote as everyone does about the beautiful California weather and hectic traffic.  He closed with the following: "Steph, the boys, and Karen are enjoying themselves as well."  Gary never let them away from his thoughts.  It wasn't HIS vacation, it was THEIR vacation.
The portion of Gary's life that has resulted in this terrible accident was his role as a police officer.  This role was also carried out in a truly exemplary manner.  His devotion to fellow officers of all departments, but especially the Shaftsbury Troopers he oversaw as a Patrol Commander was known well beyond the confines of the Shaftsbury station.  The men and women of the barracks provided me with their thoughts about Gary and his police officer role.
The primary theme was the safety of other people, especially his Trooper, his police family.  His energy, drive and motivation, combined with his job knowledge, ability to learn and ability to lead and teach was to the benefit of any officer who came in contact with him.  His organizational skills and meticulous manner were so pronounced as to drive others to distraction.  His caring, compassion, and kindness went well beyond his dealings with other officers; it extended into the community.
It was well known that the primary function of the Vermont State Police Dive Team was to recover victims of water related tragedies.  His religious beliefs enabled him to accept that fact and dictated the necessity of recovering victims for proper burial.  He took on that challenge as he had others and excelled.  He and other team members were as close as many families.
A true example of Gary's impact in the community is the outpouring of love and sympathy from the local community and throughout the state and region.  In the past few days I have spoken to people who have never met Gary and yet knew of his professional excellence from other citizens who had dealt with Gary professionally.
The brotherhood that brings us here today, particularly the police personnel, is exactly what Gary Gaboury's role as a police officer exemplified.  After 11-plus years with the Vermont State Police, he still had the ideals, integrity, and undying desire to want to serve with the people of this state.  His daily attitude, even after his years in service was the same attitude that every cop took with them to their respective police academies at the start of their own careers.  However, so many of us in law enforcement, after years of seeing life's tragedies time and time again, have that attitude either changed eroded away, changed or destroyed.  Gary did not and would not allow that.  Because of that spirit, everyone here, whether they knew Gary or are here to pay their respects, have lost deeply in his passing because of what he represented.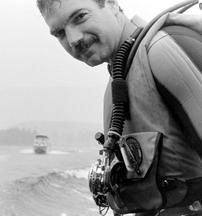 Lastly, Gary' s finest role for me personally, and for many others here, was as a friend.  Gary and I had many common interests, including hunting, volleyball and especially, fishing.  His numerous other interests included biking, softball, motor sports, and both downhill and water skiing.  In speaking with others who participated in those activities with Gary, he was equally driven by these passions.  Gary took exceptional pride in his downhill skiing and was the captain of the State Police Ski Team, a typically successful endeavor for him.  In his office, proudly displayed with other significant awards, are two trophies proving his skiing proficiency.
His friendship included helping others with their projects.  Our barracks has a way of pulling together into a work crew when necessary, usually to help with some building project.  His help to the Truex family is but one of the many examples of willingness to be a friend.  They needed assistance in constructing a log home and were encountering seasonal weather changes that threatened completion.  Gary gave a great deal of time to Tom and Barb to get the exterior of the home finished.
My own friendship was growing increasingly stronger each year.  The highlight of the fishing season for both of us was the annual Real Man Lake Champlain Fishing Derby.  The Real Man Derby started several years ago with a group of Shaftsbury Troopers going to Lake Champlain opening weekend of bass season.  The trip coincided with an actual fishing derby on the lake.  It came to represent three days and two nights of true male bonding – a boat, bass, a beer and body odor.
Karen and Gary were married June 18th, 1988, which happened to be the Real Man Derby weekend that year.  There was no end to the harassment he received from the other Real Men about choosing that date, or more appropriately, letting Karen choose that date.  Because of the respect for Gary and Karen, no Real Men went that year, opting without reservation to share in their special day.  My own anniversary is June 19th and those dates were a constant topic of conversation as we drove to the derby the last three years.  Two of the last three years we were the only Real Men around and we spent three days together.  These are the most precious times I have to remember Gary by.
In fact, the only thing I know of that Gary never learned well was how to catch a largemouth bass.  I always caught more fish and he always cleaned them.  He was so particular and meticulous about not wasting any meat it would make him crazy to watch me try to clean them to his satisfaction.
Our conversations during these days covered the various roles in our respective lives – police work, family, friendships.  These talks represent the lion's share of this eulogy.  To quote Mrs. McCrae "I don't know if you know it or not but you have one damn fine police officer" and I want to add family member, husband, father, and friend.  Yes, Mrs. McCrae… we know.
The clichés I opened with are valid and true.  Someone DOES have to take the point and the good DO die young.  Gary, unfortunately, fulfilled both clichés on May 12th, 1992, in Richmond, Vermont.
If I have learned something from this tragedy, it is a renewed sense of completeness about my belief in God and the hereafter.  There is now no doubt in my mind as to the existence of heaven.  For no good and just God could call Gary away to any place else.
In conclusion, like public speaking rule #3 says, "I'm going to tell you what I told you".  Gary Gaboury was one of the most decent, pleasant, and devoted family members, husbands, fathers, police officers, and friends I have ever known.
Goodbye, God Bless and Godspeed Gary.