June 15th, 2003

Sergeant Mike Johnson was struck and killed at a traffic stop in Thetford, Vermont by a suspect who was fleeing from State Troopers. Sergeant Johnson deployed spike sticks in the roadway, parked his patrol car in the nearby crossover and exited his vehicle. As the suspect approached, he swerved his vehicle into the median to avoid the spike strips and struck Sergeant Johnson. Sergeant Johnson was transported to the hospital where he died from his injuries.
Sergeant Michael W. Johnson was born in1963 in New Jersey. From New Jersey, the Johnsons moved to Ascutney, Vermont. From Ascutney the Johnsons moved to Claremont, New Hampshire where he lived until his sophomore year of high school. As a high school sophomore, Sergeant Johnson and his family moved to Bradford, Vermont. At a young age, it was evident that Sergeant Johnson was driven. He quickly found his niche in athletics, where he strived to be the best.
Sergeant Johnson went on to be a standout player during his one year as a member of the Oxbow Olympians. Sergeant Johnson played on both the basketball and baseball teams during his sophomore year of high school averaging 24 points per game on the basketball courts and being a pivotal member of the Oxbows State Champion Baseball Team that year. His drive and devotion to athletics was self-evident.
His junior and senior years were spent at BFA St. Albans where Sergeant Johnson was again a prominent athlete. Though he spent only two years at BFA, he surpassed the prestigious 1000-point mark in basketball.
As the oldest brother of the four Johnson boys, Sergeant Johnson acted as a role model for his younger brothers and helped foster their athletic prowess and would watch them become great athletes themselves.
Sergeant Johnson's athletic career did not end with his high school graduation, but continued into his undergraduate studies of criminal justice at the Norwich University as a member of the Corps of Cadets and at the University of Scranton, in Pennsylvania.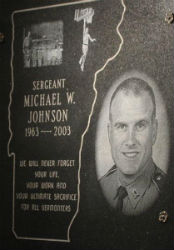 In the words of Sergeant Johnson's best friend from college and best man, Bob D, who said, "I wanted to be more like Mike." Bob went on to tell the athletic stories of how Sergeant Johnson was able to bring the people around him up to his level. His drive and easygoing style was infectious and served as a source of motivation for the people around him.
At the conclusion of his studies at the University of Scranton, Sergeant Johnson returned to Vermont to pursue his life long goal of working in law enforcement. Sergeant Johnson first started his law enforcement career as an Auxiliary Trooper patrolling the shores of Lake Champlain. In February of 1987, Sergeant Johnson entered the 40th State Police Recruit Class. Upon his successful completion of the rigorous training, Sergeant Johnson was assigned to the Colchester Station.
In December of 1987, not even off probation, Sergeant Johnson transferred to the Morrisville Cluster of the Colchester Station. A few short months later, in February of 1988, Sergeant Johnson made it off probation and was promoted to Trooper First Class. Sergeant Johnson would spend the next two and a half years assigned to the Morrisville Cluster before transferring to the Jericho/Underhill Outpost, in June of 1990. Prior to this transfer, he was promoted to Senior Trooper in March of 1990.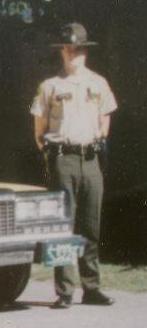 Less than a year later Sergeant Johnson transferred to the Killington Outpost where he would spend the next six and a half years. While at the Killington Outpost, in his pursuit of highway safety, Sergeant Johnson truly developed a nose for DUIs. The Killington Mountain area provided a one of a kind experience during the winter months because of the increased ski traffic. In his attempt to educate his young Troopers, Sergeant Johnson would reminisce about his experiences from the Mountain. He would share stories about the volume of burglaries and accidents during the ski season and boast of his super sonic DUI processing during the days of the Crimper. Sergeant Johnson's personal drive from his youth, carried through to his work ethic.
In April of 1997, Sergeant Johnson's hard work and dedication did not go unnoticed, as he was assigned as an acting Sergeant and Patrol Commander for the Rutland Barracks. Less than four months later, Sergeant Johnson's determination and tenacity paid off; he was promoted to the rank of Sergeant as a Patrol Commander at the Bradford Station, August of 1997.
Sergeant Johnson's six years at the Bradford Station saw him evolve from a new Sergeant to a seasoned 15-year veteran of the Vermont State Police. All Troopers dream of being a patrol commander and being able to run their shift as they see fit. Sergeant Johnson was able to use his motivational skills to enhance the abilities of the Troopers that served with him. Sergeant Johnson's endless up-beat demeanor was infectious. He possessed the ability to raise people's expectations of themselves and taught them to fulfill those expectations.
Sergeant Johnson was a driven and natural leader. He did not lead by dictating rhetoric; he led by doing. He led by example. He would never ask his Troopers to do anything that he would not do himself or that he had not already done. He was not afraid of a little work, nor was he afraid to get his hands dirty.
Though characterized as a "Junk Yard Dawg," Sergeant Johnson commanded the respect and loyalty of the community and his Troopers. The community loved Sergeant Johnson; he knew everyone and everyone knew him.
His role in the community was not simply just as a Sergeant in the State Police, but it was also as a father, husband, volunteer, coach, citizen, parishioner and a DJ, of all things. Sergeant Johnson loved his music. Two years ago, Sergeant Johnson started DJing local school dances and weddings. Sergeant Johnson also volunteered as the Bradford Elementary School, Girls basketball coach, last winter and was sometimes the lone chaperon for the elementary school ski lessons at the Dartmouth Ski Way. If Sergeant Johnson did not know you, he probably knew your children.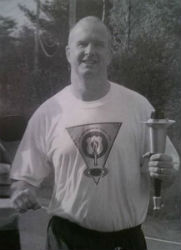 Sergeant Johnson would always make time to visit his wife and children at school. It became a daily sight to see Sergeant Johnson walking the halls of the school where his wife Kerrie taught and his children went to school.
Most recently, Sergeant Johnson was named as the head coach of the Oxbow Varsity Boys Basketball Team. Words cannot express the excitement Sergeant Johnson was feeling in anticipation of the upcoming season. Sergeant Johnson told people that he was going to change the pace of basketball in Bradford.
Sergeant Johnson had been a guest speaker at numerous events, speaking about a variety of topics. Sergeant Johnson has taught classes as part of the Bradford Station's Citizen Academy. He has also done presentations at Oxbow High School and the River Bend Career Center in Bradford. His presentations were focused on alcohol and drugs, and how they affect your ability to operate a motor vehicle. He has also done presentations at the Bradford Elementary School on stranger danger, fire safety and bicycle safety. He would always use his unique style of public speaking to make each of his presentations fun.
The goal of these classes was to help bridge the gap between the State Police and the community, along with teaching the community the consequences of these type of actions, stressing the importance of making good decisions and promoting abstinence from alcohol.
Sergeant Johnson was also selected from amongst his peers to represent the Vermont State Police at the 2003 Vermont Youth Summit. Sergeant Johnson was a panel member in an open forum with Vermont teens discussing the dangers and consequences of drinking and or using drugs while driving.
As a result of Sergeant Johnson's hard work and motivation during a statewide seatbelt initiative, he was awarded a Commander's Citation by the Commander of the Vermont State Police Field Force Division for his role in coordinating these events. Additionally, he was recognized at the state level for his individual efforts at apprehending drunk drivers.
Due to his active role in the community, his role outside of law enforcement has helped to present the Vermont State Police in a new light to the area youth, and his interaction with the students provides a strong role model for area teens.
Sergeant Johnson has embraced the Community Policing model of policing, in which a police officer resides in a geographical area of responsibility, and becomes personally involved in that community. In each of the areas he has worked, Sergeant Johnson has become involved in every aspect of living in that area, and organizing many community relations events designed to develop a bond between the citizens of the community, and the Vermont State Police.
The tragic and horrific death of Sergeant Johnson has left a huge void in the hearts and minds of not only the Troopers that served with him, but also in the hearts of wife and his children that loved him.
Michael W. Johnson
Son – Brother – Husband – Father
Vermont State Trooper
Friend