May 13th, 1983

Lieutenant Yeaw was shot and killed when his weapon accidentally discharged while cleaning it at the office.
Then-Sergeant Yeaw served as the Derby Station Commander at the time of his death.  A reorganization of the VSP's rank structure later designated station commanders as lieutenants, a rank which was posthumously conferred upon Lieutenant Yeaw.
Arthur L. "Bud" Yeaw, courtesy of his widow, Betty
Arthur Lewis Yeaw was born in Brattleboro, VT on December 6th, 1929.  He was the second of 10 children, although 3 of the children died at a very early age.  He grew up on a 300 acre dairy farm in Guilford, VT (a farming community south of Brattleboro, VT).  The hired man nicknamed him "Bud" and it stuck with him.  His father, Warren, was a farmer, his mother, Eva, a school teacher.  He was large at a young age, and able to handle the work horses.  He and his brother, Warren Jr., did a great deal of the farm work.  Bud was 6 feet tall in his early teens.  He often took care of his younger sisters and brothers, and developed a special love and understanding for children.
He attended a one-room school in Guildford.  Between his junior and senior year in high school, he went to the Vermont State Agricultural School in Randolph, graduating from Brattleboro High School in 1950.  He was a member of the Vermont National Guard, 142nd Division, which was called up in 1951 to go to Korea; however, they went to Munich, Germany.  When he returned, he joined the Brattleboro Police Department.  After a year, he applied to the Vermont State Police, graduating from the State Police Training School in February 1954.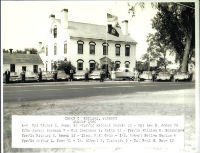 His first assignment was an "outpost" in the town of Poultney; however he covered many towns and counties on the New York side of the state.  Lieutenant Christie was the commanding officer of the Rutland headquarters.  June 26th, 1954, Bud married Betty Wohler.  We were in Poultney 10 years.  In that time, we had a son, Jeffrey; daughter Deborah, and son Glenn, all born in the Rutland hospital.  We loved Poultney, even with the difficult schedules and long hours.  Bud became a member of the Masons, and then the Shrine.  He worked the stations to Worthy Master and was Captain of the Shrine Patrol for many years.
In those days, the State Police force was small, and the Rutland station was a very tight-knit group.  The wives got together for parties, especially baby showers, and the men also had get-togethers.  The was a very strong sense of comradeship.
In February 1964, Bud was promoted to Corporal.  He was assigned as the State Police Public Relations Officer under Lieutenant Richard Curtiss.  He had already been doing some safety education work.  Lt. Curtiss covered the northern section and Bud covered the southern section of the state.  He gave talks to schools and organizations, and taught at the State Police Training School.  He loved this assignment.  The race track in Pownal opened in the summer of 1963, and he and Lt. Curtiss were assigned to that duty.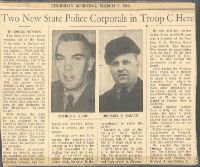 In June 1964, he was transferred to headquarters in Montpelier.  We bought a home in East Montpelier.  Bud was a Boy Scout leader for 29 boys.  He was also on the State Committee.  We were active in the Old Brick Church as Deacon and Deaconess.  We taught the Senior Sunday School group.  Bud continued his public relations work.  He worked in the riot squad when needed.  In the summer, he was assigned to patrol the lakes with the State Police boat, also to work out of the St. Johnsbury area.
Bud, with the help of Richard Curtiss, started the first State Police Masonic Degree team.  He was president of the Vermont PTA for one year.  Bud was proud of son Jeffrey, who in the eighth grade, was a page in the legislature in Montpelier.
January 1970, Bud was promoted to sergeant and transferred to the Derby barracks as station commander.  His children had to finish their respective schools, thus the family moved in July to a home on Sias Avenue, known as Missionary Acres.
Bud was appointed a Deacon at the United Church of Derby, and our 3 children attended Sunday school.  Glenn was in first grade, Debbie in eighth, and Jeff a sophomore in high school.  They adjusted to the challenges of a new area.  Bud was proud of his troopers at the Derby barracks.
January 1971, Bud was assigned to attend the Southern Police Institute at Louisville, Kentucky.  I drove the children to Louisville for his graduation in June.  Bud often taught at the State Police Academy in Pittsford, VT.  Life was busy.  Son, Jeff, played football and track.  He also joined the debating team.  In his senior year, he won the American Legion State Oratorical Contest and went on to regional, also the VFW State Contest.  He was invited to speak at a joint session of legislature.
Bud started night classes at Champlain College.  He received his Associate's Degree in law enforcement in 1976.
Bud was elected commander of Newport American Legion Post 21.  He was able to have the department sponsor the Law & Order Cadet Training Program.  It was held for one week each summer at the State Police Academy.  Bud took a week's vacation to supervise the junior high school boys.  Then junior girls joined the program.  He supervised the program from 1972 to 1982.  He went on to be Department Commander of the Vermont American Legion in 1981 and on national committees.  He was a member of the Elks and the VFW, as well as a member of the Shrine Motorcycle Corps.  He served many years on the American Red Cross.
When he could attend the football games, he always "ran the chains" and was an enthusiastic viewer.  Then when the youngest, Glenn went to high school, he played football, basketball, and track, so Bud was able to enjoy the games again.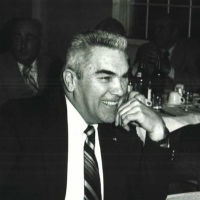 His hobby was his garden in the back yard of our home.  He grew everything from vegetables, strawberries, potatoes to almost 600 gladiola plants which surrounded the garden.  He grew pumpkins for the neighborhood children.  There were so many vegetables, that I would send Glenn to deliver them to the neighbors.  Bud had a "green thumb".  Our neighbors were like family to us and we had such good times.
Everyone knew that Bud's "word was gold".  He was an honest, understanding, and caring State Trooper, husband, father and Friend.