September 17th, 2015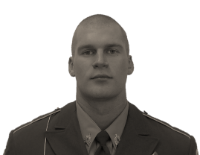 On September 17th, 2015 at approximately 2pm, Trooper Kyle Young suffered a medical event that caused him to collapse during training at the Ethan Allen Firing Range in Jericho.  Tpr. Young was participating in selection process for the Tactical Services Unit.  Trooper Young was subsequently rushed to the UVM Medical Center, where he was pronounced deceased at approximately 3pm.
Kyle was raised in the Watertown, NY area and graduated General Brown Central School in 2005.  He was an athlete and played his favorite sport of lacrosse along with football and basketball.  Growing up in Northern New York, Kyle was a faithful Syracuse University basketball fan.  Kyle enjoyed many hobbies to include MMA fighting, working out, playing cards, shooting, and riding his motorcycle.  Kyle attended American Military University where he majored in Criminal Justice and Political Science.  Kyle joined the Air Force in 2007 and completed his basic training at Lackland Air Force Base in San Antonio, Texas.  Kyle served several combat tours while in the Air Force doing security work and residing in South Carolina.  Kyle became a father for the first time with the birth of his beautiful daughter Kaydence in 2009 just prior to one of his deployments.   In 2011, Kyle was honorably discharged from the Air Force and joined PSS/SGS Security to go back oversees as a contractor doing security work.
In 2013, Kyle Young sat in front of a Vermont State Police hiring panel seeking to be become one of them, while proudly wearing a lengthy beard earned from his military service overseas. At 27-years-old, Kyle joined the Vermont State Police and became a member of the Vermont Police Academy's 97th Basic Class. Kyle brought his inherent traits of teamwork, strength, and valor to the Vermont State Police. His academy classmates grew to know Kyle as a man with protective, brotherly instincts, who excelled at physical training, and who always made his presence known. In May 2014, Kyle graduated from the academy, becoming a trooper when his beautiful daughter Kaydence pinned his badge during the ceremony.
Kyle was assigned to the New Haven Barracks and immediately impressed his Field Training Officers (FTOs) with his calm and patient demeanor, but made it known that he was ready for whatever the shifts were to bring. On one occasion, Kyle responded with his FTO to a call about a suicidal veteran. He was able to build rapport with the distraught veteran through his own shared experiences and ultimately convince the veteran to seek help. It was his way of capitalizing on his background training in the military and as a successful MMA competitor that helped Kyle stay level-headed, composed, and empathetic, even in the midst of chaos.
As Kyle transitioned out of field training, he continued to show the depth of his character with his co-workers, especially when it came to being there to help out. His night shift crew developed a new assurance when they knew Kyle was coming to back them up. Kyle was the first to say he was in route to assist a fellow officer, and usually the first to arrive no matter where he was coming from. The officers were comforted and confident in the situation, knowing he was coming to back them up. He also became passionate about impaired driving enforcement. Kyle was a force to be reckoned with when it came to DUI patrol, being one of the top troopers making DUI arrests.
The troopers and game wardens in New Haven also knew Kyle for his goofiness and youthful exuberance. A bit of a joker, Kyle was known for issuing written warnings to cruisers parked behind the barracks that he felt violated his own personal standard of parking. He would come into the barracks with a frantic walk, mumbling about how much paperwork he had or how far behind he was, but then his face would light up with an eye-crinkling, toothy, mischievous grin and he would say, "I'm going to go stop cars." His enthusiasm for the job outweighed his paperwork deadlines, much to his supervisors' chagrin. But everyone knew that with Kyle, whether it be with his grin or if he started his sentence with, "Dude…" something humorous was to follow.
In October 2014, that mischievous grin was replaced by a gentle one when he became a father a second time to a beautiful baby girl, Kinley. Kyle and his loving partner, Alyssa, showed her to the troopers at the barracks with the pride of new parents. The love Kyle had for his girls, displaying their pictures on his desk and sharing stories of their life with others, was evident to everyone.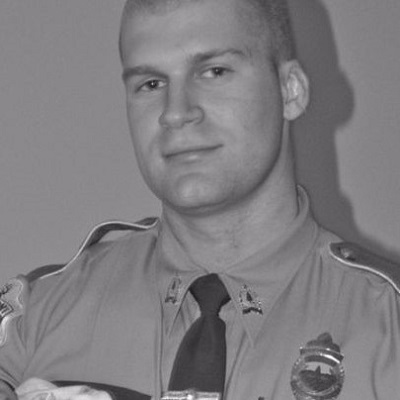 This love and gentleness for family extended beyond his home, making his mark on those in the community which he served as a trooper. Especially for one family who met Kyle on an unfortunate day in August, 2015. Kyle overheard rescue being dispatched to a suicide where the family found their son in distress. Kyle calmly and respectfully removed the family from the situation so they did not have to witness the scene, and then fought with every ounce of his being to keep the teen alive. Kyle administered CPR to exhaustion, only being relieved briefly until he was able to continue. This was the Kyle that the troopers in New Haven knew, a man who would not give up no matter how desperate the circumstances. And Kyle's first act after rescue assumed control was to check on the teen's family.
Kyle was more than the uniform, but the uniform was so much more when he wore it. Kyle never gave up and always gave 110%. His drive and perseverance was admirable and everyone knew he would push as hard as he had to in order to get the job done. But it was his heart that stood out, above all else. He became a brother to his fellow troopers, watching over and protecting them. We know he will continue to do so, just from a different position. He will still be the first one there to back us up and keep us safe.
One of Tpr. Young's major career goals was to become a member of the Tactical Services Unit.  Kyle was posthumously selected to be a member of the team.
Rest easy, Kyle, we have the shift from here. But we know you are still with us, in our thoughts, memories, and hearts for a lifetime.