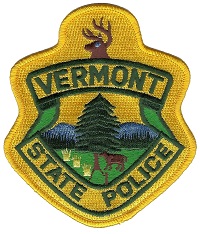 The Vermont State Police shoulder patch is a modification of the Great Seal of Vermont and the State's Coat of Arms, originally designed by Ira Allen of the Green Mountain Boys.  
The mountain peaks are Camels Hump and Mount Mansfield, as viewed from the Lake Champlain area. It is believed that Samuel de Champlain, the first European to map and chart the lake that would later bear his name, first saw the region from that vantage point. The view also serves as a reminder of the beauty of the Green Mountains.
The tall pine tree represents one visible from the windows of the home of Thomas Chittenden, Vermont's first governor. The wooded hills stand out the way they often do on a bright autumn day.
Beneath the hills are sheaves of grain and a grazing cow, representing Vermont's agricultural and dairy industry. Above all is a deer head, symbolizing Vermont's abundant wildlife.
The Vermont State Police shoulder patch was adopted in 1947 by our first Public Safety Commissioner, Major General Merritt A. Edson.
Patch Requests
To receive a Vermont State Police shoulder patch send a check in the amount of $3.50 USD made payable to the Vermont Department of Public Safety at the address below. There is a limit of three patches per person.
Vermont State Police
Field Force Division 
ATTN: Shoulder Patch Request
45 State Drive
Waterbury, VT 05671-1300