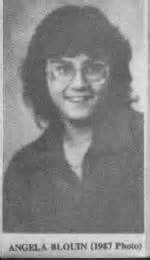 Crawford Rd., Derby, VT
21 year-old female
Vermont State Polic e - Major Crime Unit
Case number:  93B201051
Angela Blouin was last seen alive at the One Stop Mini Mart at the intersection of Main Street and Third Street in Newport City on 5-30-93 between 01:00 and 01:30 AM.  Ms. Blouin was found deceased on 05-30-1993 at 11:40 AM off the eastside of Town Highway 41 (Crawford Road) 1.25 miles south of US Route 5 in the town of Derby.  Ms. Blouin was found by an individual who was walking in the area.
Evidence identified at the scene revealed a struggle had occurred prior to her death. This case remains an unsolved homicide.