A 1946 missing person case was largely responsible for the formation of the Vermont State Police, and the department of public safety is statutorily responsible for investigating missing person cases throughout Vermont.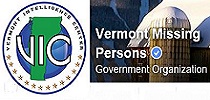 The Vermont Intelligence Center posts timely notices of missing persons on the Vermont Missings Persons Facebook page. This website contains information on people missing for more than 60 days.
Whenever possible, an image of the person has been included in the information listed for each case.  However, there are instances where investigators do not possess an image of the individual, or it is of poor quality.  If you are aware of an image for any of the cases listed here that would help investigators and the public, please contact detectives through the links provided.  Individuals are listed here at the direction of the Bureau of Criminal Investigation Commander.
Look up by name: