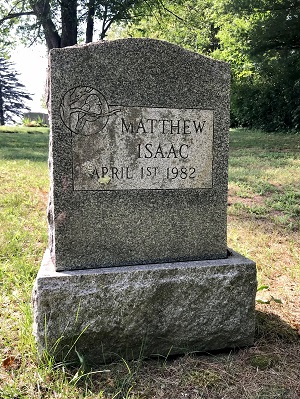 Newborn infant: white, male, brown hair
Mill Hill Road, Northfield, VT
Vermont State Police - Major Crime Unit
Case numbers: 05A305256 / 620-491
A newborn baby was found dead on April 1, 1982, alongside the Mill Hill Road in Northfield. He was wrapped in a brown bath towel inside a sealed plastic garbage bag. Evidence indicated the boy had been carried full term and born alive only hours earlier, likely nearby. His death is attributed to exposure to the elements. The identity of his parents remains unknown. The case is unsolved.
A funeral service for the infant was held in late April at St. Mary's Church in Northfield. Reverend Frank Wisner III named the child Matthew Isaac. He was buried after the service.
In July 2020, detectives with the Vermont State Police started work on an emerging investigative technique involving DNA in collaboration with Parabon NanoLabs that could help shed light on this case. Follow this link to learn more: https://bit.ly/Northfield1982
Anyone with tips or other information they think could be relevant should contact our Berlin barracks or submit an anonymous tip online.
Additional information can be found on the JusticeDrive page established independently by Parabon NanoLabs.