74 year old male
Averill , VT
Vermont State Police
View Ronald LaBonte on NamUs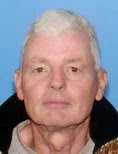 On September 26, 2013 at approximately 4:00PM the Beecher Falls Fire Department requested the Vermont State Police arson investigator to respond to a suspicious residential fire on the Canaan Hill Road in the town of Averill that was initially reported on September 26 at 1:22PM.
Through the course of the investigation, detectives learned that the home owner, Ronald Labonte, age 74 of Averill, is suffering from a terminal illness. He was last seen leaving his residence a few hours prior to the fire in his black Ford Ranger pickup truck bearing VT registration BME 507. Labonte is suspected of intentionally setting the residence on fire.
On September 28 Labonte's truck was located in the woods across the road from his residence. Detectives were able to focus their search for Labonte to the Canaan Hill Area using members of the Vermont State Police, Essex County Sheriff's deputies, state police K9 units, and the Canaan Police. To date, Labonte has yet to be located.