18 year old female
Bennington, VT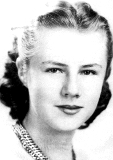 The disappeance of 18 year old Bennington College student Paula Welden showed a need for a dedicated agency to investigate missing people, and her case led directly to the 1947 formation of the Vermont State Police.
Paula Welden was last seen on the afternoon of December 1st, 1946. She left the campus that afternoon after telling her roommate she was going for a hike. Several hikers reported seeing her on the Long Trail, just off Route 9 near Glastenbury Mountain. She was reported missing by her roommate the following morning, after she did not return to campus.
An extensive search of the area did not show any signs of Welden. Investigators from New York, Massachusetts, and Connecticut assisted in the investigation, due to limited police services in Vermont at the time. Numerous theories were investigated, but no conclusive outcome was ever determined.