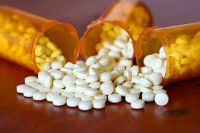 Drug Diversion Unit is crimes relating to prescription drug abuse and misuse. Investigators are assigned to cases across the state of Vermont and work together with local, county and federal law enforcement. In addition, four additional detectives, located in each troop district across the state, are equipped to investigate drug diversion cases.
Prescription drug abuse is the nation's fastest growing drug problem and Vermont is not exempt from this problem. One third of people, 12 years and older, who used drugs for the first time in 2009 began by using prescription drugs, according to the National Survey on Drug Use and Health.
Prescription Drug Take Back Initiatives
Since 2011 the state of Vermont has participated in Drug Take Back Days. This bi-annual event is focused on collecting unused or unwanted prescription medications. A number of law enforcement agencies host collection sites. Anyone can drop off prescription medications at any site, no questions asked. This collection and disposal is free of charge. Please no sharps or liquids.
Get a list of agencies that offer drug disposal throughout the year for your convenience.
What is Considered a Drug Diversion Crime
The following are guidelines of what may be classified as a crime:
Prescription must be your own-cannot possess or sell another's prescription
Consumption of prescription medication that is not your own
Prescription is not properly dispensed by a licensed professional
Prescription is not kept in a lawful container
Prescription obtained by fraud, deceit or trickery
Prescription is forged, false or altered
Prescription is obtained by concealing material facts of physical condition or treatment
False name or address provided to prescriber
Misrepresent or use of false title
False or forged label on prescription
Patient failing to disclose treatment & prescriptions provided by any other physician for the same condition
Prescribers may share information communicated to them by patient if they believe there is an effort to unlawfully obtain a regulated drug.
Title 18 VSA 4223. Fraud or deceit: Information communicated to a physician in an effort unlawfully to procure a regulated drug or unlawfully to procure the administration of any such drug shall not be deemed a privileged communication.
If you suspect prescription abuse or misuse contact the Drug Diversion Unit at 802-244-8727