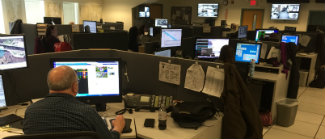 The Vermont State Police provides emergency communications services to the Vermont State Police, Vermont Department of Fish & Wildlife, local police agencies, county sheriff departments, constables, fire services, EMS services and other first response agencies from two communication  centers.
The civilian staff that serve as call takers and emergency communication dispatchers is a dedicated group who strive to provide the best service possible to the citizens and visitors of Vermont. There are about 58 full-time and part-time call takers and emergency communication dispatchers who provide twenty-four hour a day emergency dispatching. The role of emergency communications dispatcher is critical to delivering quality emergency services in Vermont. 
If you have an emergency, please call 911. Otherwise, please contact your local barracks.