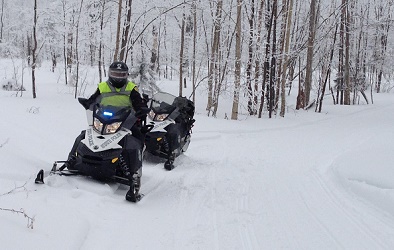 The Snowmobile Division is responsible for safety and enforcement on the Statewide Snowmobile Trails System (SSTS). This task is accomplished by providing snowmobile safety education, patrolling of the SSTS and enforcement of Vermont's snowmobile laws.
Snowmobile Safety Education
All snowmobile operators born after July 1, 1983, who are 12 years of age and older, are required by law to take and pass an approved snowmobile safety course before operating on the SSTS. "Today's Snowmobile Rider in Vermont" snowmobile safety course is available in a classroom setting. The schedule of classes as well as other information about snowmobiling in Vermont can be found on the Vermont Association of Snow Travelers (VAST) Website. An approved online snowmobile safety course is available for those persons unable to attend a classroom course.
Snowmobile Laws and Regulations
Information concerning Vermont snowmobile laws and regulations can be found in the "Vermont Snowmobile Manual" published by the Vermont Department of Motor Vehicles.
Snowmobile Safety Course
The approved Vermont online course is available here: www.snowmobile-ed.com/vermont/