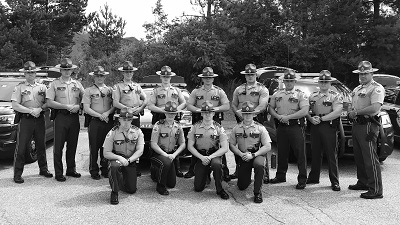 The Shaftsbury Barracks consists of a Station Commander, 11 uniformed troopers, 4 Patrol Commanders, 2 detectives and 2 administrative staff. Although one of the smaller stations in the state, the barracks is a vital part of the county's community relations, critical criminal investigations and aggressive highway safety enforcement.
Located in Shaftsbury, the barracks provides police coverage throughout Bennington County. We provide primary law enforcement services for the towns of Arlington, Dorset, Glastenbury, Landgrove, Peru, Pownal, Readsboro, Rupert, Sandgate, Searsburg, Shaftsbury, Stamford, Sunderland, and Woodford, as well as Somerset in Windham county.  This coverage is augmented by our strong relationship with the Bennington County Sheriff's Office. We also provide assistance as requested to Bennington, Winhall, and Manchester Police Departments.  The Shaftsbury Barracks patrols 205 miles of State Highways.
Troopers of the Shaftsbury Barracks routinely visit all of the schools in our patrol area on a yearly basis as part of our School Outreach Program.  Several of the Shaftsbury Troopers also coach youth athletics and High School sports programs
The Shaftsbury barracks staff regularly conducts outreach through community groups, select boards and other public forums to discuss local concerns and relate important information to community members.  If you or your group would like to be part of our community outreach effort, please contact the station commander.