Operation CARE is state police / highway patrol agencies that have joined together in the endeavor of reducing human suffering on our highways, particularly during the national holidays.
In 1978, Vermont and all 48 continental U.S. states became part of Operation C.A.R.E. This makes it one of the longest running traffic safety initiatives in our nation's history. Operation C.A.R.E. was formed to deter the three key causes of highway fatalities: speeding, impaired driving and failure to use occupant restraints.
The vision that initiated the Operation C.A.R.E. program was born in the minds of two men who dedicated their careers to the preservation of life through highway safety measures. Sgt. Gary Ernst of the Michigan State Police and F/Sgt. Gene Neff of the Indiana State Police were first-line field supervisors who got together in 1977 to discuss their mutual concerns. Little did they know that their simple plan for interstate cooperation would lead to the program we have today.
Today all 50 states (state police/patrol), American Samoa, Guam, Puerto Rico, U. S. Virgin Islands, and the Provinces of Ontario and Quebec are actively involved in C.A.R.E., making it an international traffic safety program.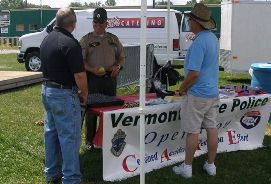 Due to the early success of Operation C.A.R.E. during the three traditional summer holiday weekends, it has expanded. It now includes the All America Buckle Up Week in May, International Transportation Safety Week in June, the Thanksgiving holiday weekend, and the International Association of Chiefs of Police/National Holiday Lifesaver Weekend. The Vermont State Police participate in each of these initiatives.
Agencies participating in Operation C.A.R.E. are placed into ten regions. Vermont is in Region I along with all New England states and Quebec. For additional information visit the Operation C.A.R.E. Website, or visit the Operation C.A.R.E. Facebook Page.