Over half of all fatal motorcycle crashes involve another vehicle. Most of the time, the motorist, not the motorcyclist, is at fault. There are a lot more cars and trucks than motorcycles on the road, and some drivers don't "recognize" a motorcycle – they ignore it (usually unintentionally).
Because of its small size, a motorcycle can be easily hidden in a car's blind spots (door/roof pillars) or masked by objects or backgrounds outside a car (bushes, fences, bridges, etc). Take an extra moment to look for motorcycles, whether you're changing lanes or turning at intersections.
Because of its small size, a motorcycle may look farther away than it is. It may also be difficult to judge a motorcycle's speed. When checking traffic to turn at an intersection or into (or out of) a driveway, predict a motorcycle is closer than it looks.
Motorcyclists often slow by downshifting or merely rolling off the throttle, thus not activating the brake light. Allow more following distance, say 3 or 4 seconds. At intersections, predict a motorcyclist may slow down without visual warning.
Motorcyclists often adjust position within a lane to be seen more easily and to minimize the effects of road debris, passing vehicles, and wind. Understand that motorcyclists adjust lane position for a purpose, not to be reckless or show off or to allow you to share the lane with them.
Turn signals on a motorcycle usually are not self-canceling, thus some riders (especially beginners) sometimes forget to turn them off after a turn or lane change. Make sure a motorcycle's signal is for real.
Maneuverability is one of a motorcycle's better characteristics, especially at slower speeds and with good road conditions, but don't expect a motorcyclist to always be able to dodge out of the way.
Stopping distance for motorcycles is nearly the same as for cars, but slippery pavement makes stopping quickly difficult. Allow more following distance behind a motorcycle because it can't always stop "on a dime."
When a motorcycle is in motion, see more than the motorcycle – see the person under the helmet, who could be your friend, neighbor, or relative.
If a driver crashes into a motorcyclist, bicyclist, or pedestrian and causes serious injury, the driver would likely never forgive himself/herself.
General Guidelines For Riding A Motorcycle Safely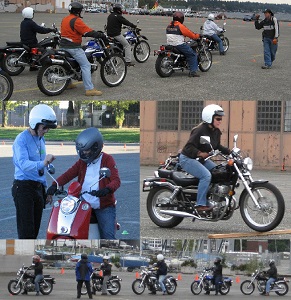 Be visible:
Remember that motorists often have trouble seeing motorcycles.
Make sure your headlight works and is on day and night.
Use reflective strips or decals on your clothing and on your motorcycle.
Avoid riding in the blind spots of cars and trucks.
If possible, flash your brake light when you are slowing down and before stopping.
Have an escape route in case a motorist doesn't see you and violates your right-of-way.
Dress for safety:
Wear a quality helmet and eye protection. A full-face helmet provides the best protection.
Wear leather or other sturdy, protective clothing (jacket and pants); over-the-ankle boots; and gloves.
Bright clothing and a light-colored helmet increase the chances of being seen.
Dress for a crash as well as for the ride.
Apply effective mental strategies:
Constantly search the road for changing conditions. Use the Search-Evaluate-Execute strategy (SEE) to assess and respond to hazards before you have to react to an emergency.
Give yourself space and time as you search for traps and escape paths.
Give other motorists time and space to respond to you.
Use lane positioning to see and be seen.
Search for vehicles that may turn across your path, especially at intersections.
Use your turn signals for all turns and lane changes.
Ride as if you're invisible.
Don't ride when you are tired or under the influence of alcohol or other drugs.
Know and follow the rules of the road.
Know your bike and how to use it:
Study your motorcycle's owner's manual and make a habit of doing a pre-ride check.
Get formal hands-on training and take refresher courses. Call 800.446.9227 or visit msf-usa.org to locate a Motorcycle Safety Foundation RiderCourseSM near you.
Develop your riding techniques before venturing into traffic, especially emergency braking and swerving maneuvers. Practice often to keep your skills sharp.
Corner within your skill limits. Aggressive cornering is a major cause of crashes.
Know how to handle your bike in adverse conditions such as wet or sandy roads, high winds, and uneven surfaces.