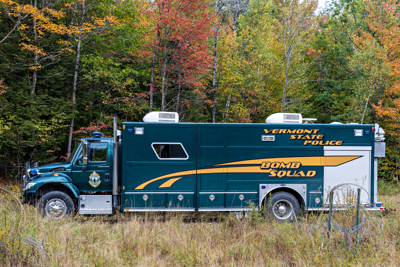 The Vermont State Police Bomb Squad is the only accredited public safety bomb squad in Vermont and is commanded by Lt. Paul Ravelin. All team members are certified by the FBI as bomb technicians.
The Vermont State Police Bomb Squad was formed in the late 1960s. The first Vermont State Police bomb technicians were certified in 1971. Bomb technician certification continues to be obtained through the successful completion of a basic course of instruction held at the Hazardous Devices School located at Redstone Arsenal in Huntsville, Alabama. Hazardous Devices School, operated by the FBI, is the only facility in the country that trains and certifies public safety bomb technicians in the United States. Presently this basic course of instruction is six weeks in length. Bomb technicians are further required to successfully complete a re-certification course every three years back at Hazardous Devices School.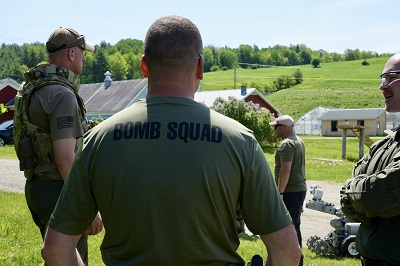 Bomb technicians complete advanced level trainings on a variety of topics such as post-blast investigations, advanced explosive disposal techniques, and homemade explosives as part of a continuous learning program. Bomb technicians are also trained to serve as hazardous material technicians. This continuous learning requirement allows the bomb technicians to remain aware of current trends in the field. 
The team has three explosive detection canines assigned to members on the team. The explosive detection canines work with their human partners on a daily basis and are certified every year in the detection of a variety of explosive related odors.
The Bomb Squad averages more than 100 responses annually, including preventative missions (such as sweeping a location before a special event) and reactive responses to explosive devices; suspicious packages; old, abandoned or unclaimed explosive material; bomb threats; and illegal fireworks.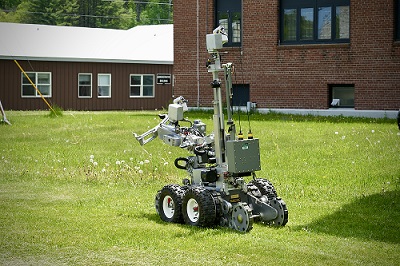 Bomb technicians also are available to provide familiarization training and instruction to the first responder community in Vermont on topics related the field of explosives.
Bomb Threat calls, questions to ask
(printable form - click here)