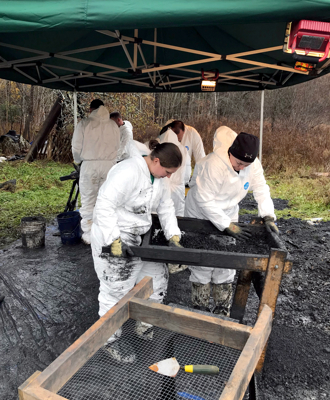 The Vermont State Police Crime Scene Search Team (CSST) is a cadre of up to 20 members comprised of Bureau of Criminal Investigations (BCI) detectives and Field Force troopers who come together as a cohesive unit to process active crime scenes throughout Vermont. All CSST members are assigned to other positions within the Vermont State Police. The Crime Scene Search Team is called upon to document, process, photograph, search, and collect physical evidence from major crime scenes. 
Detectives from BCI and the Major Crime Unit (MCU) complete case investigations, backgrounds, and interviews of people involved with a major crime while CSST members process scenes.  
The team works with the Vermont Forensic Laboratory to ensure evidence is collected properly and prepared for laboratory submission. The CSST may collect hair, fibers, latent fingerprints, and DNA. Team members also take detailed measurements, videos, and photographs at scenes, and they document trajectory paths. The team processes evidence at indoor and outdoor scenes. 
CSST Mission Statement
The Vermont State Police Crime Scene Search Team strives to provide the highest quality forensic scene processing at active crime scenes, ensuring proper evidence collection, chain of custody, and laboratory submissions. The CSST provides crime scene services to state, local, and county agencies throughout Vermont.