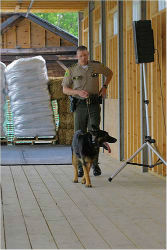 The VSP K-9 Unit is the largest police canine unit in Vermont.  Team members attend almost 14 weeks of Patrol Training for the basic school and then attend training on a monthly basis. Some units will go on to the 6 week drug detection school, or a one week wilderness tracking school. VSP is also about to begin training of two new cadaver units.  Handlers train regularly and constantly receive specialized training with their partners, to stay prepared and ready for a large variety of calls for service, which can include searching buildings, tracking a felon or lost child, detecting illegal drugs, locating evidence at a crime scene, protecting the handler or other officers, dispersing crowds, and is an important tool for Community Policing.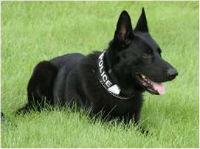 These Vt. State Police K-9 teams are available not only to the local State Police Barracks, but are routinely deployed to assist state, municipal, county and federal law enforcement agencies as well. A high percentage of the deployments for a Vt. State Police K-9 are assists to other agencies.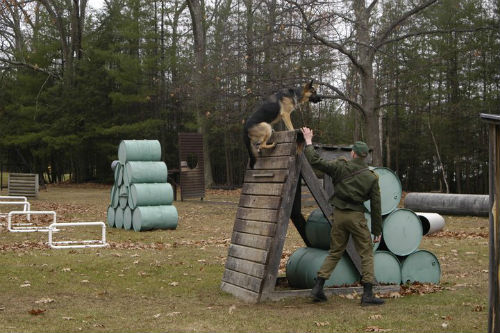 Many of the K-9 Teams are used on a daily basis. A K-9 Handler may be assigned to perform a demonstration to elementary children in the morning in a comfortable controlled environment and later in the day be requested to locate an armed felon in a large wooded area consisting of varying terrain, during horrendous conditions. K-9 Handlers need to be familiar with using a compass and/or a GPS, and at times, be able to negotiate hazardous terrain in any type of weather and in the dark.